Undergraduate Overview
Outline of the International College of Arts and Sciences
At the International College of Arts and Sciences, educational research takes place in an integrated way from the perspective of international coexistence to cope with a variety of problems that modern globalizing society faces. In order to provide solutions to these problems, the three disciplines of humanities, sociology and natural sciences were put together into one broad academic field of study.
The three departments "Department of International Liberal Arts", "Department of Environmental Science" and "Department of Food and Health Sciences" were established in order to understand global society and comprehend and solve problems related to food and health as well as environmental problems from the level of our daily lives right up to the global level. We are aiming at educating people so as to give them a sound judgment and ample knowledge to face flexibly the changes of times or society, to give them flexible adaptability, and from an Asian or global perspective enable them to contribute to making an even better society, not only here in Japan but also in overseas countries or areas.
For those entering the University in April of 2010
*Together with the establishment of the International College of Arts and Sciences, FWU has stopped accepting applications for the (previous) Faculty of Literature and Faculty of Human Environmental of Sciences since April 2011.
Outline of the Faculty of Literature
The Faculty of Humanities aims to cultivate individuals who can act independently by teaching them the critical thinking skills and integrated decision-making abilities useful for surviving in this era with its overwhelming developments in internationalization and informatization. To this end we are, organizing a curriculum that organically arranges general education studies (the liberal arts) and specialized studies that are in principle to be taught in classrooms with a small number of students.
Our faculty's tradition is to value and cultivate the talents and individuality of each student. As a result, we are turning out women with an abundance of education and specialized knowledge, women who are capable of both inheriting and creating culture.
Outline of the Faculty of Human Environment of Sciences
The pillar of the education provided by this faculty is the study of "a healthy living and environment", an important topic forms the perspective of natural science in the 21st century. In the 3 sciences departments of Environmental Science, Nutrition and Health Science, and Living Environment Science, we have created an educational system that cultivates specialized knowledge and the ability to make practical applications of that knowledge from the perspectives of "integrated science", "nutrition, diet, and health" and "living environment planning and management".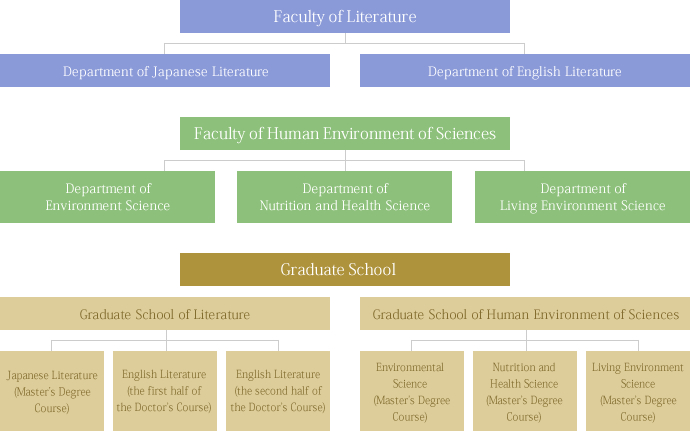 *Until March 2011