International College of Arts and Sciences Department of Food and Health Sciences

Along with the great changes occurring in the world's social systems, recent actual issues include the solution of food problems and the improvement of eating habits around the world. Our society needs people who can solve our food safety and food supply issues here in Japan and in developing countries. Our objective is to help students to develop effective techniques and specialized knowledge to solve these food and health issues confidently. They will also have the opportunity to take exams to become registered dietitians and work at the forefront of food and health science, as well as gain knowledge about environmental science and international society. We aim to produce graduates who can proactively tackle core societal food and health issues.
National Registered Dietitian Training Course
What is a "National Registered Dietitian"?
The license of National Registered Dietitian is received from the Minster of Health, Labor and Welfare. The dietitian has to gives the necessary nutritional guidance to provide medical treatment for the the sick and wounded as well as to enhance the preservation of health that requires a high level of specialized knowledge and techniques suited for each individual person's physical and nutritional conditions. She or he also has to manage the continuous supply of meals to large numbers of people that need specific care based on their physical and nutritional conditions at facilities that require this, while also giving the necessary guidance for the nutritional improvement of these kinds of facilities.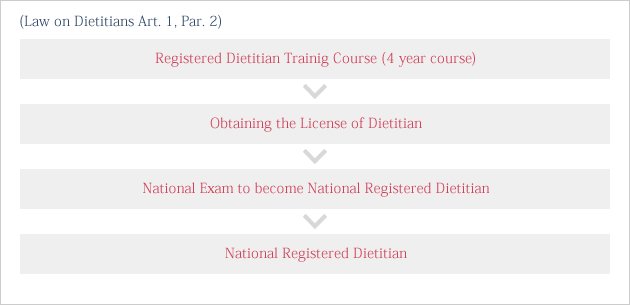 Future possibilities for graduates form this course
Hospitals

As experts on nutrition in medical care, they will aim to help treat illnesses through nutrition management and dietary instruction.

Welfare Institutions

They may work in welfare institutions that deal with nutrition management and (cafeteria-style) lunch management for infants, the elderly and physically impaired people.

Schools

They may work at elementary school or high schools, being responsible for school meals and guiding children with food-related issues.

Research or Educational Institutions

In laboratories of R&D companies or universities, they may carry out dietetics research or help train specialists with educational research.

Government Offices

They may work at the public health department of prefectures, municipalities or cities, or conservation centers, playing an active role in public welfare such as health education.

Other

They may work at welfare program facilities for students and workers, defense facilities, correctional institutions, local activities, etc.