Admission, Tuition and Scholarship for International Students
Admission
2023 Academic Year Outline of Fukuoka Women's University(FWU)Entrance Examination for International Admission.
●Japanese Government (MEXT) Scholarship Program
Financial Support for International Students:
University Entrance Examination for International Students :
Be sure to check the procedural requirements in the official Exam Leaflet (which will be announced duly) for details by referring to the table below:
Date of Enrollment
 
April 2023
Major & Course
・Department of International Liberal Arts
・Department of Environmental Science
・Department of Food and Health Sciences
Type
General Entrance Examination
Number of Candidates
20(*1)
Date of Exam
11 December, 2022
Exam Location
Fukuoka Women's University, Korea, Malaysia
※Subject to change due to COVID-19.
Selection Procedure
・ Short essay
・ Interview
・ Examination for Japanese University Admission for International Students(EJU)
・ English language proficiency tests(*2)
Important Notice
―
Application Procedure
Application Procedure (PDF)(Updated October-17,2022)
※Partial Correction(PDF)(Updated October-17,2022)
Download the following formats in applying to the relevant examination.
・Curriculum Vitae(PDF)
・Application for Certificate of Eligibility
(excel) (PDF) 【SAMPLE(PDF)】
・Absence Notification(PDF)
(*1) The Number of admissions for General Screening (20 students) includes the admissions for Partner Institution Recommendation Screening (a few).
(*2) Acceptes English language proficiency tests:
1)EIKEN Test in Practical English Proficiency 
2)TOEFL iBT 
3)TOEIC® Listening & Reading test, TOEIC® Speaking & Writing tests
4)GTEC (4-skill version)
5)IELTS
6)TEAP
7)TEAP CBT
8)Cambridge English Qualifications

Pre-arrival Admission Approval:
"Pre-arrival admission approval" is a system whereby applicants to FWU are allowed to apply for admission and to take the entrance examination (while being in their countries) and are judged as a successful candidate for admission on the bases of the scores of EJU and of FWU's independent exam.
FWU holds this Pre-arrival Admission Examination for international students in Korea (Seoul), Malaysia(Kuala Lumpur) , Vietnam (Hanoi) and Thailand(Bangkok), giving the task of writing a short essay and an oral exam. With this type of entrance examination, any overseas candidates can take an examination without coming to Japan.
Tuition
| | |
| --- | --- |
| Entrance exam fee | \5,000 |
| Admission fee | ― |
| Tuition fee | \535,800/year (\267,900/semester) |
FWU waives the Admission fee for all international students.
FWU offers eligible students a tuition fee waiver program which exempts the half or all of the yearly tuition fees depending on the scores of the entrance exam and on the GPA.
Miscellaneous dues
Supporters Association Fee (Initial Fee)
\40,000
Supporters Association Fee (Annual Fee)
\10,000
Insurance fee (4 years period)
\4,010(Department of International Liberal Arts and Department of Environmental Science)
\4,080(Department of Food and Health Sciences)
Students' Association (4 years)
\15,000
Total
\69,010(Department of International Liberal Arts and Department of Environmental Science)
\69,080(Department of Food and Health Sciences)
Providing a room in the dormitory for all International Students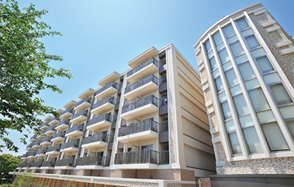 The International Students Friendship House "NADESHIKO" is located in campus. International Students are guaranteed a room in "NADESHIKO" for 4 years. Click here for further details.

Fee: \15,000 per month (including the cost of utilities and internet connection)
Scholarships
Provision of scholarships in AY 2022
There are several scholarships offered, on a competitive policy, by the Japanese government (JASSO) and the local organizations. Students can apply for them.
| Name | Type of Scholarship | Monthly Stipend |
| --- | --- | --- |
| JASSO | Monbu-kagaku-sho Honors Scholarship for Privately-Financed International Students (by Pre-arrival) | \48,000/month |
| Fukuoka (Prefecture) International Exchange Foundation | Fukuoka Satooya Scholarship for International Students from Asian Nations | \20,000/month |
| Fukuoka City International Foundation(Yokatopia) | Yokatopia Scholarship for International Students(includes work experience opportunity) | \60,000/month |
※There are also other scholarships than the ones mentioned above, but generally 2-3 students per year are able to obtain such grants. There are also tutor systems to support foreign students with their studies, life in Japan and interpersonal relationships.
Country / Region
Location
Detail
・Korea(Seoul, Busan)
・Malaysia(Kuala Lumpur)
Each examination sites for 2022 EJU
(1st session)
Distribution of materials
(June 19, 2022)
・Korea(Seoul, Busan)
・Malaysia(Kuala Lumpur)
Each examination sites for 2022 EJU
(2nd session)
Distribution of materials
(November 13, 2022)