Club/Circle Activities
Educational and Recreational Facilities
The "university grand hall" and the "club activity building" are facilities where students can enjoy and deepen exchange among themselves as well as with their teaching staff. On the ground floor of the "university grand hall" there is a cafeteria style restaurant and a relaxation area; the floor can also be used as a party venue. The grand hall on the second floor offers 474 seats and is used for a variety of events.
In the "club activity building" are there club/circle rooms, music and dance practice rooms, a tea room, and a student common room. The student dining hall and the tea room overlooking the Japanese garden and the forum's interlocking pavement show an appearance befitting a place of communication between students and faculty.
There is also a gymnastic hall called "Sports Cube", where a variety of indoor sports can be enjoyed, and a sports gym annexed to the hall serves as a place for students to refresh themselves and to maintain their physical health by various sports machines and kits.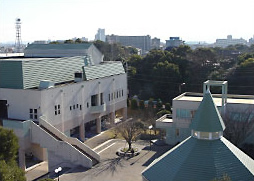 Club/Circle Activities
Regarding clubs and circles, students plan, prepare and run activities by themselves. Through these activities, students cultivate themselves with a healthy mind and body. By taking part in these club activities, students can communicate and interact with each other and obtain friends for life.
Arts related Clubs and Circles
*circles
Ura senke Tea Club
Fine Arts Club
Literary Art Club
Omote senke Tea Club
Work Camp
(Social Welfare Volunteers)
ESS
(English Speaking Society)
Mandolin Club
Environmental Science Club
Hobby Crafts Club
Japanese Language Education
FUN
(corporate data collection)
Eating Shoku-Bo-net
(Food Education Volunteers)
Photography Club
Broadcast Circle
Aloe (Nutrition Related)
JaM Bang!
(Instrumental performance)
Calligraphy
Nagomi (Koto, Noh)
Sugar Road (English)
CROC'Z (World Heritage Tour)*
Ecorche
(Environmental Activities club)
With
(Disaster relief volunteer club)*
Plus 1(qualifications)*
Study for TOW
(Education Support Volunteers)*
HI-FIVE (International Exchange
Chorus Joint Club*
 
 

Mandolin Club

Tea Club

Shoku-Bo-net
Physical Exercise Clubs
*circles
| | | |
| --- | --- | --- |
| Volleyball | Badminton | Japanese Archery |
| Folk Dance Club | Dance Club | Hapigola(dance) |
| Umi BOUZ (scuba diving) | SISTERS (basketball) | Track and Field |
| Manneri Jidai(dance) | Pot pourri(volleyball)* |   |

Japanese Archery

Umi BOUZ (scuba diving)

Badminton