Campus Map, Facilities Locations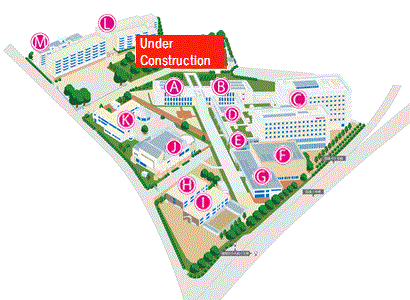 Lecture Block
Information Processing Seminar Room
Research Building
Library
CAFE "Nan no KI"
Sports Cube(Gymnasium)
Regional Alliances Center
D Block
E Block
University Assembly Hall
Activity Club House
Student Dormitory(International Student Friendship House NADESHIKO)
Student Dormitory (for seniors)
Information Processing Seminar Room
Using the Internet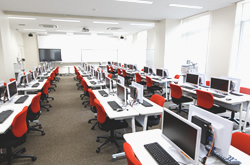 The Information Processing Seminar Room was set up to be used for seminars of information processing and information technology-related subjects as well as analyzing experiment data. However, it is also open to other students outside lecture and seminar hours. Students can use the room for a variety of purposes, such as writing reports and their graduation thesis, job searching and so on. This facility has excellent features equipped for information processing technology education and it is composed of fifty-six terminals for student use as well as an information network system.

Each terminal is placed on a spacious desk and is comfortable to use.
Many students enjoy using the Internet and writing e-mail during their break or free time.
Library
Our library is the backbone of Student Life and Research Activities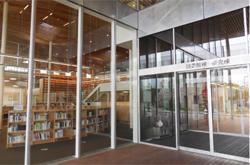 The university library is a facility that provides useful information to students, staff, and local residents, as well as playing a big role in the advancement and enhancement of research activities and student life.

There are approximately 200,000 books in our library and they can be searched easily by using library search terminals. Equally, magazines, DVDs, videos and other reference materials can also be found easily. Academic information outside the university can be searched rapidly as well. Our students and staff members can order a copy of the material they need by using the interlibrary links which were made with other university libraries.

Our library continuously improves to meet the needs of its users. We constantly accept requests on DVDs and books. The library display section with requested books is always popular among our students. In response to students' requests who were unable to find available PCs, we started lending laptop computers for inner-library use. Group study rooms are also available.

We aim to make our library comfortable for many people to stay and engage in their studies and research(es).
Student Dormitory(A・B・C Block)
International Student Friendship House NADESHIKO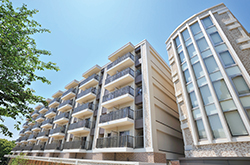 Through cohabitation and various exchange activities with foreign students, all students learn to cultivate an international-mindedness as well as cross-cultural communicative competences.
Activity Club House・University Hall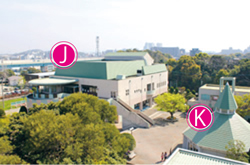 University Hall
On the first floor of the University Hall, there is a cafeteria-style dining hall, a university co-operative store, and a student hall with a relaxed atmosphere. The Great Hall on the second-floor has a seating capacity for 474 people, and is used for various events.
Activity Club House
Activity club rooms, lodging places, music and dance practice rooms, a Japanese tea room, and a student common room are functionally located in the club house. The dining hall and Japanese tea room which overlook the Japanese traditional garden, and the interlocking concrete pavement forum has an appropriate appearance that provides a place to communicate for students and faculty members.