Location and Surroundings
Gateway to Asia: Studying in Fukuoka is the first step to become an international person
Fukuoka is making rapid progress as a major hub city in Asia and has now become a vigorous place where people from countries around the world come and enjoy interacting. Fukuoka aims to develop and prosper together with Asia by setting up a "Fukuoka-Asia New Era Creation Zone" (i.e. National Strategic Special Zone). In addition it is proactively nurturing innovative youth culture through the initiatives such as "Asian Beat" and "Fukuoka Asian Collection" (FACo). To study in such an international setting will be a good start to interact with people from diverse backgrounds.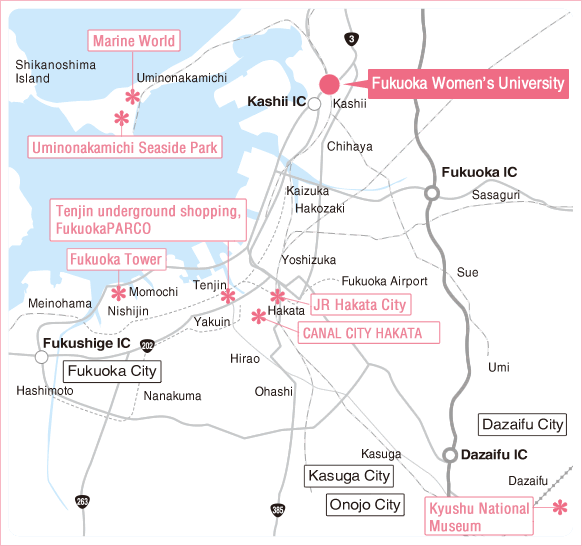 Fukuoka Tower
Located in Momochi, this tower with a height of 234 meters is the symbol of Fukuoka. From the observation deck at an altitude of 123 meters people can overlook Fukuoka City.
Umi-no-nakamichi Seaside Park

This is the park inside Umi-no-nakamichi, an elongated sandbank (sandbar) continuing from Nata Beach to Shikanoshima. Open-air (movie) theaters etc. have been completed.
Marine World Umi-no-nakamichi

The first aquarium in Japan to publicly display the sand tiger shark in a large panoramic water tank, as well as 20,000 fish of 350 ocean species.
JR Hakata City

A new landmark created at the gateway of Asia. JR Hakata City is the new hot spot housing stores such as "Hakata Hankyu" and "Tokyu Hands Hakata Store.
Kyushu National Museum

The fourth national museum constructed in Japan 108 years following Tokyo National Museum, Kyoto National Museum and Nara National Museum.
Tenjin Chikagai

This underground shopping mall connects 20 nearby buildings and shopping zones and is convenient for moving around when it rains.
Canal City Hakata

This commercial complex surrounded by a canal lines up a shopping mall, movie theater and hotels.
Fukuoka PARCO

A variety of shop line-ups with attractive fashion, culture, food and cosmetics.