An introduction to our International Center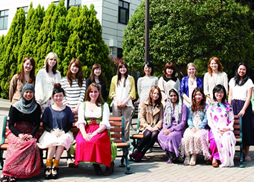 The Fukuoka Women's University International Center (IC) was founded on October 1st 2006 as the International Exchange Center, with the aim of promoting international education and the exchange of university students and faculty members for research purposes. Since then, it has been actively involved in developing a number of projects to develop international exchange and cooperation in the following ways:
(1)

to exchange academic faculty, administrative staff and students

(2)

to carry out joint research

(3)

to exchange academic materials and publications with other institutions

(4)

to implement other forms of collaboration with partner universities.
On a daily basis, the IC staff are also advising Japanese students who want to study abroad. This includes supporting and promoting exchange programs as well as coordinating language study programs abroad, helping students with their choice of program and area/country, and providing students who are interested in volunteering with opportunities to participate in short-term overseas experiential learning programs.
For foreign students who are studying or wish to study at FWU, IC staff will
1.

provide information about our programs and help students enroll

2.

help students as much as possible with their integration at FWU

3.

promote a modern Japanese Culture program for short-term international students with both in-class instruction and other activities.
Overseas Partner Universities(26)
Over the past five years, FWU has managed to sign bi-lateral exchange agreements with a number of leading universities around the globe. These universities make it possible for our students to participate in both short and long-term study programs, focusing on different aspects of each country and an various academic fields.
The following is a list of our partner universities, in chronological order as to when the agreements were signed:
2008/1/29

California State University, Northridge (U.S.A)

2009/8/25

Dong-A University College of Engineering (Korea)

2009/9/19

Vietnam National University, Hanoi (Vietnam)

2009/9/30

Ewha Womans University (Korea)

2009/11/20

Tashkent State Institute of Oriental Studies (Uzbekistan)

2010/1/25

Leuven Catholic University (Belgium)

2010/3/10

Munich University (Germany)

2010/3/15

Chulalongkorn University (Thailand)

2010/3/18

Pusan University of Foreign Studies (Korea)

2010/3/19

Gadjah Mada University (Indonesia)

2010/12/16

University of Peradeniya (Sri Lanka)

2011/2/22

Thammasat University (Thailand)

2011/4/19

Lund University, Faculty of Humanities and Theology (Sweden)

2011/6/27

Polish Academy of Sciences, Institute of Geography and Spatial Organization (Poland)

2010/6/27

University of Warsaw, Faculty of Geography and Regional Studies (Poland)

2011/7/6

Darma Persada University (Indonesia)

2011/8/22

Tongji University, College of Foreign Languages and Women's College (China)

2011/10/6

University of Copenhagen, Faculty of Humanities (Denmark)

2011/11/21

Tamkang University (Taiwan)

2012/1/31

University of Iceland, Reykjavik (Iceland)

2012/2/5

China Medical University (China)

2012/7/2

Dalian University (China)

2012/7/9

The University of Auckland (New Zealand)

2012/8/8

The University of Manchester, Faculty of Humanities (UK)

2013/8/1

Lady Shri Ram College for Women (India)

2013/12/19

Mahidol University, Faculty of Liberal Arts (Thailand)
Exchange Programs
Students can study at our partner universities for up to a year. Through these long-term programs, students learn to understand different cultures and to look at their own culture from a different perspective. Most bi-lateral agreements allow the students to study at the partner universities without paying tuition fees and to transfer the credits they obtain to their home universities. Students are selected on the basis of their G.P.A., TOEIC/TOEFL/IELTS scores, study plan and statement of purpose.
Language and Culture Study Program
"Looking for Myself" Project – 120 (LMP 120)
LMP 120 is an ambitious project by FWU's IC whereby it undertakes to send 120 students abroad to participate in short-term language study programs created during the academic year 2011-2012. The project has received the financial support of the Japan Student Services Organization (JASSO) which provides scholarships to all 120 students who will take part in it. The prerequisites for the courses are a minimum of 30 hours' class time and a research topic the student will work on abroad.
Field Study Programs
These programs provide hands-on experience overseas to learn how to grapple with real-world issues and challenges. Examples of experiential learning programs (ELP) are a stay at Crystal Waters (Australia), to address environmental issues and think about possible solutions for sustainable living environments, and a field study trip to Sri Lanka.
Programs for Short-term International Students -The World of Japanese Contemporary Culture program (WJC)
The World of Japanese Contemporary Culture program was established to commemorate FWU's reform into a more globalized university with the inauguration of the International College of Arts and Sciences. On October 1st, 2010 the opening ceremony of the first WJC program took place, with 25 students from 6 different countries attending. Students have the choice to attend the program either for one semester of for a full year. The program grants participants from certain partner universities a scholarship, based on each university's exchange agreement.
During the morning, classes in Japanese language are offered, depending on each student's level. In the afternoon, courses on various aspects of Japanese culture are presented. Whereas the WJC Fall Semester focuses on modern popular Japanese culture, the Spring Semester focuses on Japanese traditional and local (Hakata) culture. The program also includes field-study trips, guest speakers, symposiums and homevisits to local Japanese families. At the end of each semester, the students present their Independent Study Project (ISP), orally and in writing on a topic regarding Japanese culture which they developed under the supervision of a professor.
General Information(WJC/Fall 2017 - Spring 2018)
Application Form(WJC/Fall 2017 - Spring 2018)
Course Abstract(WJC/Fall 2017) ※tentative
Course Abstract(WJC/Spring 2018) ※tentative
Syllabus(Sample) (WJC/Spring 2016)
Syllabus(Sample) (WJC/Fall 2016)
WJC Program Leaflet (Fukuoka Women's University)
JD-Mates (Joshi-Dai Mates)
JD-Mates are the official group of FWU students who organize and participate in events with overseas visitors to FWU. They support both long and short-term overseas students, helping them to find their way around the campus and to adjust to living in Japan. They also play a key role in the international activities of our campus by guiding overseas visitors, organizing events (e.g. exchanges with the local community), participating in field-study trips and creating information resources.
CONSORTIUMS:
Consortium of Asian Universities in Fukuoka (CAUFUK)
In order to strengthen ties and to promote exchange with our partner universities, and to contribute to sustainable development of Asia, the Consortium of Asian Universities in Fukuoka (CAUFUK) has been set up under the leadership of Fukuoka Women's University.
CAUFUK's member universities are all of our current partner universities (as of November, 2011) in Asia.
China
Tongji University
Indonesia
University of Gadjah Mada
Darma Persada University
Korea
Ewha Womans University
Pusan University of Foreign Studies
Sri Lanka
University of Peradeniya
Thailand
Chulalongkorn University
Thammasat University
Vietnam
Vietnam National University, Hanoi
European Union Institute in Japan, Kyushu (EUIJ –Kyushu)
The European Institute in Japan, Kyushu (EUIJ-Kyushu), one of the academic institutions which are affiliated with the EU, was launched in April 2011. This institution provides students, researchers and the public in and around the Kyushu area with various opportunities to broaden their knowledge of all aspects of the EU and its member countries. The EUIJ-Kyushu is administered by the consortium of Fukuoka Women's University, Kyushu University and Seinan Gakuin University. The European Union Studies Diploma Programmes (EU-DPs) offer courses related to economics, law and politics, history, culture and society, science technology and health science at each campus. Other activities of the EUIJ-Kyushu include summer courses, research, scholarships and research funding, outreach, coordination with other EU institutions and information dissemination.